Give it up for the Big Guy " Loren Ball "!.
Loren thank you for doing this feature, it's really an honor to have you here. Most of us haven't been as fortunate, as your so close to a great bunch of Guy's and Gal's which all are pretty devoted to Kites, Kids, and BBQ. Your what this sport is all about, having fun and enjoying kites.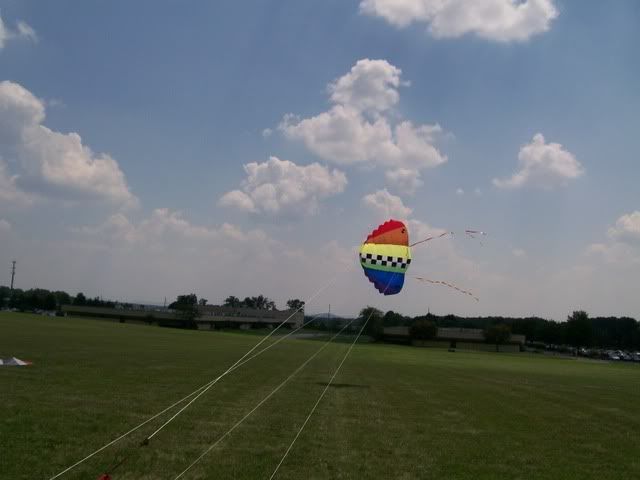 Nasa Wing 4.8m
My life took a turn for the better on July 16th, 2008. That is the day my wife had a 2 hour appointment and I had some time to kill, so I found myself wandering around in Forever Flying in Decatur, Alabama. I had not flown a kite since grade school 50 years ago, but it seemed interesting to me that a person could make a living in a kite store, so in I went. Walking through the door was like going to Disneyland. I never imagined that so many kites could be on display in one place. The owner, Shawn Donahoo was behind the counter, and we just started talking about things we both enjoy doing. After a little while I told Shawn that I would like to fly a biggish kite and he told me that he could get away for an hour or two after my wife finished her business, so I made an appointment to come back with her a little later that day and we all went flying.
Prism Hypnotist
Griffin 5 Stripe
Shawn set up a 4 meter quad line foil for my first try at kiting in winds of about 8 mph. WOW !!! I could not believe that a kite could drag me around like that on such a mild day. In retrospect he put me in a kite I could not break, and with good reason. We then flew a 5 meter quad line NASA wing which I did much better with. A 30 minute learning curve does not sound like much to people who have not flown a modern kite, but it made a huge difference. After about an hour I got to try a dual line stunt kite. That was like stepping out of a truck and getting behind the wheel of Keith's Corvette !!! After a few minutes I was able to keep it in the air and long before I was wanting to quit, Miss Judy was giving me the look, so we called it a day and went back to Forever Flying. I bought the NASA wing. One week later I bought a Prism Hypnotist. The weather did not cooperate enough to give me a chance to fly the Hypnotist, but I was able to get some time with the NASA wing because it will fly in the lightest breeze.
I asked Shawn who the local kite flyers were, and he gave me a list with their email address, so I attempted to contact everyone on the list of about a dozen people. And that, ladies and gentlemen, is how I became associated with Rob Henry and Keith Galeano. Shawn assured me I would be safe from physical harm, so I agreed to meet them at Intergraph, and since then I have been in the hands of three of the best kite flyers in this part of the country. Shawn, Rob, and Keith have been very patient with me and I have been able to learn enough in the last couple of months to shed the newbie mantle.
Prism Zephyr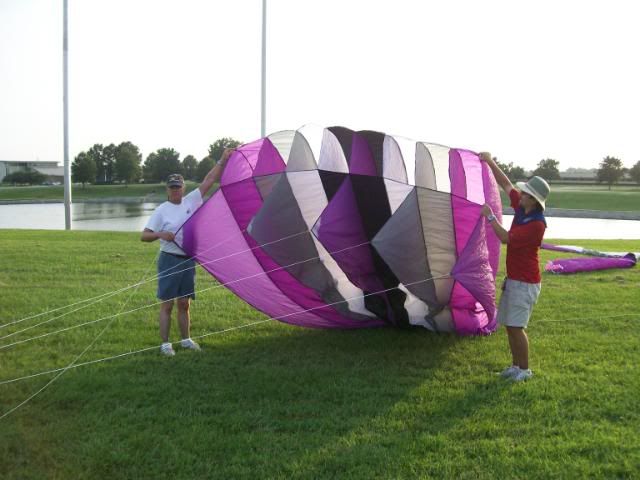 Loren Ball & Shawn Donahoo
Over the course of a few of months I have acquired half a dozen kites that are different enough to keep me occupied, and I usually have something to fly regardless of the weather conditions. It has been challenging for me to learn some of the tricks and ground maneuvers with my stunt kites and it has also been great fun to fly some of the big single line kites. Our group has gained a few new members when people seeing our kites from several miles away have come to Intergraph. The knowledge I have gained in the field and the information I have gathered from sites like Nosedivers has made me a pretty decent kite flyer. I am still low on the totem pole around here because everyone else is so good, so my best bet is to recruit someone who doesn't have the faintest idea what they are doing.
Loren Ball
Decatur, Alabama