Sometimes your dreams do come true! One of mine since I started this forum was to present Mr. Paul Shirey as a 'Featured KiteBuilder'. Paul's not only a great builder of kites, but is one of the nicest people I've ever ran across. A talk with Paul on the telephone just makes you smile! His dedication and hard work on kite design has influenced the evolution of Stunt Kiting. Now, let me turn it over to Paul...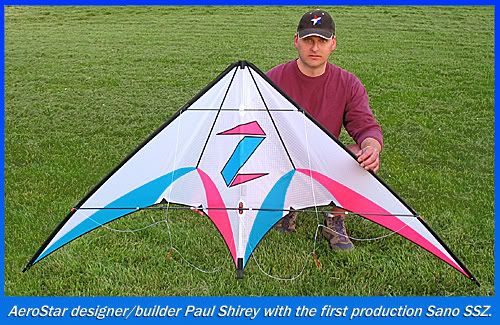 Name
: Paul Shirey (Pronounced "Shy-Ree")
Aliases
:
[email protected]
, The StarMan, PPPFP
Age
: 42
Occupation
: Mechanical Engineer & Kite Designer/Builder
Interests
: Kites (Dah!), Cycling, Digital Photography, Music
Years Flying Stunt Kites
: 15
Years Building Kites
: 13
Website
:
AeroStar Sportkites
Kite Types Flown
: Duals (70%), Fighters (20%), Quads (10%)
Favorite Form of Flying
: Indoor or Light Winds (Great exercise and I enjoy the challenge and finesse required!)
Least Favorite
: While all kites are nice, a stable SLK bores me after about 2 minutes. I much prefer to be moving or actively controlling a kite at all times!
Primary Kiting Influences
: Wow, there are just so many talented people! But overall, I have the utmost respect for
Ken McNeill
of
Blue Moon Fabrications
and
Tim Benson
of
Benson Kites
. Both have been involved for a long time, are true master builders, consistently put out quality products and have a lot of business integrity. I was honored to meet Tim while attending Kite Party II in California. Super nice guy and very humble! Surprisingly, I have yet to meet Ken, but we've had many pleasant conversations on the phone. Someday soon, we will share a beer or two I'm sure!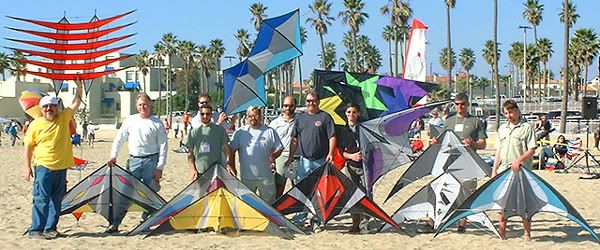 That's me between Mark Reed and Tim Benson - some impressive company indeed!
Special Thanks
: First, to all the members of the
Fly Pittsburgh Kite Club
for your belief in me when just getting started. Also to
Joe Ludwig
for his friendship, guidance and encouragement when starting the website and expanding the business. Thanks to
John Chilese
for the PhotoShop assistance and designing the superb "ArrowStar" logo shown below. To
Jon & Marieanne Trennepohl
for taking a risk and continuing to provide the kiting community with quality fabric and
Sky Shark Spars
. And most importantly, to all the wonderful
AeroStar Customers
who have ultimately become friends. For that, I am truly blessed!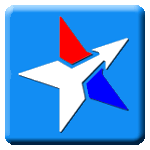 The offi
cial "
ArrowStar" logo for AeroStar Sportkites.
Foreword
: Thanks, Chuck, for making me this month's 'Featured KiteBuilder' - I am honored! Ok, below is my kiting history and sorry for the length. Accordingly, you may want to read it in sections (or just check out the pretty pictures
). But seriously, I tried my best to condense the last 15 years and here is my story.
An innate love for flying objects.
As a child, I was always fascinated with things that flew. I enjoyed attending air shows plus building model rockets and planes. And, of course, I did quite a bit of kite flying too. Unfortunately, I'd rarely come home with the kite I left with - those &@%?!*$ trees! But during my teen years, I put kites aside as you would naturally suspect.
Rediscovering kites as an adult.
After graduating college, I would frequently travel to San Francisco on business. When touring the city one evening, I saw these magnificent kites flying at Fisherman's Wharf. It was obvious these delta wings were dynamic and responding to the pilot's inputs. The spins and loud roar they emitted were mesmerizing to me. After talking with a few of the fliers, I knew this was a hobby I wanted to explore.
First Stunt Kites = Major Disappointment.
Upon returning to Pennsylvania, I was really excited to acquire my first dual-liner. To my dismay, not one hobby shop in the area had any in stock. Heck, most didn't even know what I was talking about! I ultimately looked in the Yellow Pages and found a listing for a major retailer. After acquiring their catalog, I ordered my first stunt kite. My family and friends thought I was nuts for spending $125 on a "toy" kite!
After my first few outings, I was starting to agree with them. You have to remember, this was way back in the early 90's. Heavy and flexible fiberglass frames were the norm. Heck, my kite even offered an optional upgrade kit. What was included? A pair of standoffs since the stock sail had none at all! Also, I was using this awful flying line that was almost as thick as climbing rope (Kevlar core with a heavy Dacron sheath).
So, combine a 5 foot "brick" kite, 150 feet of high drag line, lighter inland winds plus a clueless pilot and the results were not pretty. The low end wind range must have been at least 15 mph! However, I did have one amazing flight. A bad storm front was moving in and with it came 30 mph winds. Wow, what an experience! I vividly recall doing my first loops and low ground passes. For me, this was much better than R/C planes. No gas or batteries required and, with the pull, you felt a direct connection to the object being flown. I was hooked for life!
The Experimentation Begins.
The following year, I purchased a few more kites. The designs started getting better, but most were still too heavy for my prevailing winds. A few ultralights were coming on the scene, but they were hard to come by and the carbon was rather brittle. I ended up researching graphite tubes and purchased some quality Beman shafts at my local archery shop. After framing a kite in 100% graphite and retrofitting a low drag bridle, I hit the flying field.
Wow, the difference was amazing! This kite not only flew in much lighter winds, but the upper end was also improved thanks to the stiffer airframe. In addition, the decreased mass made the kite more nimble during transitions.
Hmmm, Can I Build a Stunt Kite?
After my successes at modifying production kites, I started to toy with the idea of making my own from scratch. I was a little intimidated at first, by then figured, "Heck, I'm an engineer, this should be doable!" Another thing that motivated me was my dissatisfaction with the quality on many mass-produced models. Uneven bridles, shoddy sewing and overall lack of detail were far too common.
Learning to Sew.
Looking to take the economical way out, I purchased a $150 sewing machine at the local Wal-Mart. Big mistake...what a POS!!! There was essentially no speed control. That beast was either off or screaming at full speed - definitely not good for a novice! I then attended a sewing convention in Pittsburgh to learn about the various quality brands and demo the latest models.
The first brand I tried was the Husqvarna Viking and immediately fell in love. (I've acquired several of these machines over the years and I think they are the best.) With my new Husky, I then set about practicing on Ripstop Nylon and then building a few SLKs to get my feet wet.
The First Dual-liner is Born.
To be honest, the sewing and building aspect came very easy for me. I've always had an anal-retentive personality. I'm the type with endless patience and willing to spend double or triple the time to do things perfect. My major obstacle was lack of helpful tips or plans (nothing on the Internet yet!).
Prior to starting construction, I spent quite a few hours in CAD configuring various sail layouts. After deciding on a geometry, I made a 1:1 plot and went to town. Because of my inexperience plus lacking the fancy fixtures and templates I have today, that first kite took forever to finish. But in the end, it flew damn nice. (And yes, I'll admit that some luck was involved! LOL).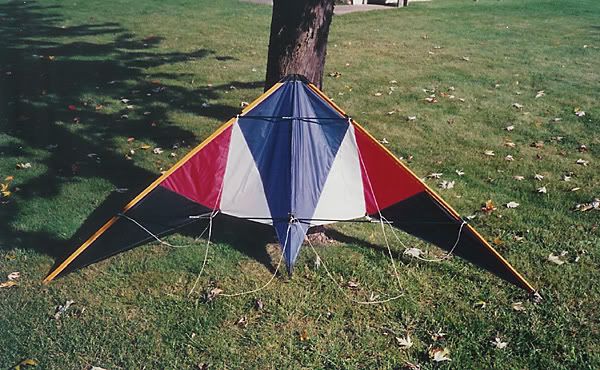 This is the very first dual-liner I ever made. Not too embarrassing for an initial effort (although that may be the world's longest bridle!
).
My first kite festival - Yowza!
In 1993, I heard about this major festival in Wildwood, NJ called the East Coast Stunt Kite Championships. I headed down there to meet some other enthusiasts and get some flying tips from the masters. Man, I was like a kid in a candy store! First time I ever saw team flying, stacks, flexis, quads and multiple stunters being independently flown. And, even though there were not many tricks back then, those guys doing snap stalls, wingtip stands and side slides were like Kite Gods to me.
What became of that first stunter?
Funny story here: While at that first ECSKC Festival, I flew my creation during the evening Fun Flys. A gentleman approached me and inquired what model this was. I stammered, "Well ah, it actually doesn't have a name..I just built it myself." After test flying the kite and seeing the workmanship, he immediately said, "This kite is going home with me." I was flattered since he already had a super collection of high-end kites. But, I respectfully declined his offer to buy it. To my surprise, he kept persisting and wouldn't take no for an answer!
My girlfriend at the time then nudged my arm and whispered, "Ya know, you can always build yourself another one." What a revelation - in all honesty, the thought of making more stunt kites never crossed my mind! I truly believed this would be my first and last. In the end, he got the kite and I did go on to produce a "few" more over the years (~1,000 and counting!).
An Official Business is Formed.
Throughout the mid-90's, I started to take this kite deal more seriously. I refined that first design and even gave it an official name: Pulsar. By this time, advances in materials were commonplace like quality graphite, Spectra flying line and polyester sailcloth (the late Tom Marvin from Hang-Em High Fabrics told me I was one of the first people to build a kite using Icarex).
Many members of Fly Pittsburgh went bonkers over the Pulsar. This was mainly because it could handle our erratic inland breezes. Not only could it withstand winds up to the mid-teens, but could also stay aloft during the 2 mph lulls. I ended up building many Pulsars for club members and also selling them at local festivals. In addition, the name AeroStar was chosen, business cards printed and legal documents filed.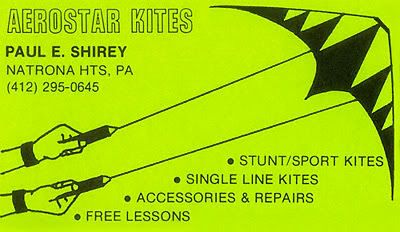 The layout of the first AeroStar business card.
A Photo Collection of Pre-Internet Era Kites
:
There is a common misconception that I started building kites at the same time the AeroStar website came on-line about 6 years ago. But by then, I already had years of experience, completed several designs and paid my dues.
Below are some of these kites. The Pulsar and Spica were refined every few years as tricks and flying styles progressed. So, the last versions made it to the website. Others, like the CrossBow and Vertex, have been seen by very few people outside my local area until now.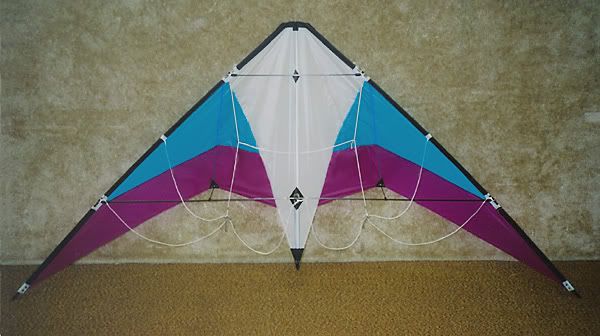 This is the first generation Pulsar UL from 1995. An 8 footer at a svelte 8.25 ozs. thanks to the P-31 Icarex sail and Beman Pro-Comp 14 spars. Very complex bridle (7-Point, Dynamic & Sliding!) along with suspended standoffs. Great precision while being as nimble as a 6 footer.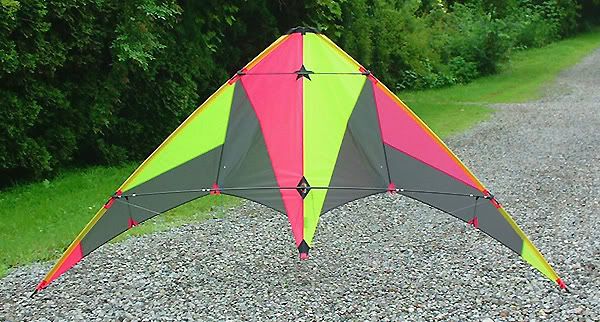 And here is the final Pulsar Pro. The last few I made used PC-31 with either Easton or Sky Shark frames. The LE now had some curvature plus a revised cut on the TE. Also changed to a standard "Turbo" bridle and added outer standoffs (with adjustable washout). Finally, the dynamic 'V' trick line eliminated keel wraps during flat spin maneuvers like 540s. The trick line's inward tension also prevented the lower spreaders from pulling apart during aggressive moves.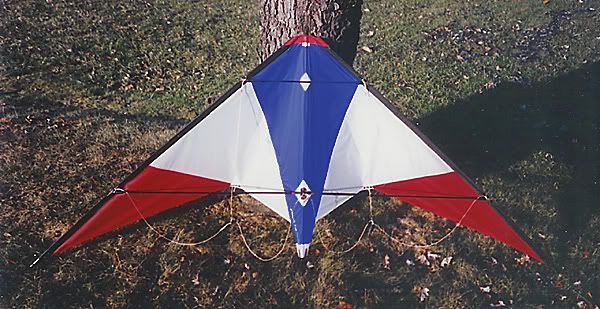 This is the original Spica, my first 3/4 size kite. I wanted this to be my "economy" model at around $100. Therefore, a pretty straightforward, no nonsense design. Very fast kite and sounded like a P-51 Mustang!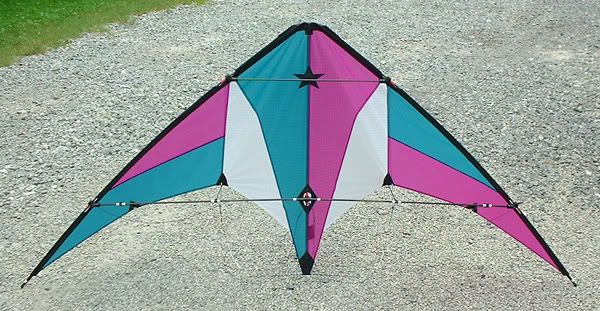 Of course, I couldn't leave well enough alone and started modifying the Spica to make the 'Pro' version. This is Gen2 with a "Turbo" bridle, outer standoffs and half leech lines. Sail geometry was substantially changed too plus now had 8-panel graphics.

This leads to the final Gen3 now called the Spica Pro EX. Graphics were updated from 8 to 10 panels (thanks Mr. Chilese!). Also included dynamic leech lines, deep indent 'W' trick line and American made Easton Pro Comp spars. Lots of new appliqué choices plus started offering YoYo stoppers and tail ballast kits as options.
This is a dedicated indoor kite called the CrossBow. Only used a pair of micro-carbon LE spars plus a spine. The exposed nose ferrule permitted easy assembly. An elastic tension line was used in place of traditional lower spreaders. This line "sprung" the integrated LE spars further inboard, thus adding depth to the sail. Finally, the bridle inhauls attached to the tail for enhanced pitch control. Wingspan: 4'4", Weight: 1.4 ozs.
This is me doing an axel with the CrossBow. Always loved this photo - note how close the kite is to the brick wall and the slack in the flying lines!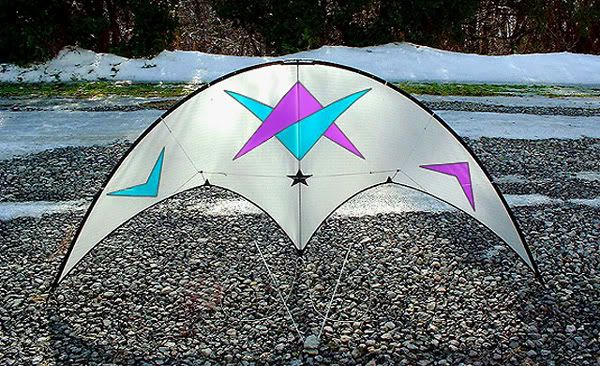 Here is the final version of the CrossBow. Now used hollow LE spars and wingspan increased to 5'. Also, the elastic line was replaced with a Spectra tension system. The section passing through the center 'T' fitting was adjustable; this then permitted the flier to quickly change the aspect ratio. The bridle could also be adjusted by swapping to different holes along the upper portion of the LEs. For more CrossBow info (and what a dismal failure it was), see this Archived GWTW Forum Post.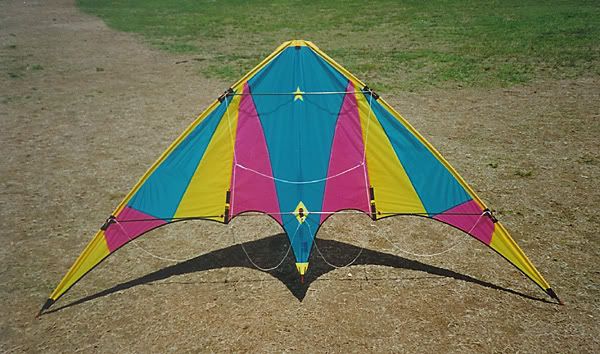 This Vertex from 1997 was my first 7 footer (a size I still prefer today). As shown, this design featured a quad scalloped TE along with an integrated standoff/sail batten system. The yellow squares on the batten pockets were tiny hinges, thereby allowing the standoffs to fold flat for easy transport. The "crimp line" between the bridle's uphauls was infinitely adjustable and provided dynamic pitch control.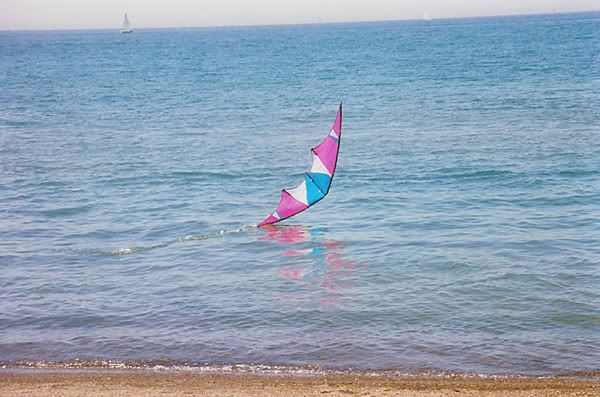 A Vertex skimming across the waters of Lake Erie. This was my personal kite for a few years. Really great memories with this one - it's the kite that took my freestyle skills to the next level!
Since the Vertex proved to be very efficient, I made a few SULs framed with Sky Shark 2Ps. My buddy Richard took this photo of me using some fancy camera settings. The ghosted sail and color streaks look very cool! (Photo: Aretz)
Miscellaneous Modern Era Photos
: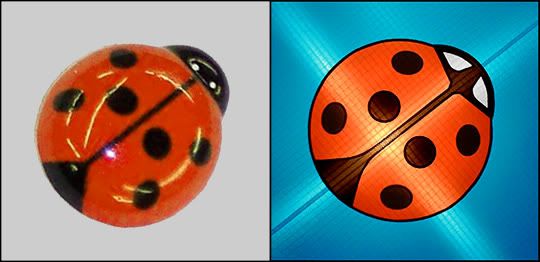 I don't consider myself an artist in the traditional sense, but will do some custom appliqué work from time to time. In this case, a customer provided this Ladybug lapel pin as a reference. For the finished product, I opted to enlarge and stylize the eyes.
This "Fractured Star" appliqué was custom made for the late Shane Hill. To brighten his spirits while recovering from heart surgery, I surprised him with this one-off star graphic. His loving wife, Shelly, told me this ZeroStar was displayed at his funeral. That literally brought a tear to my eye and I still miss him everyday. To learn more about Shane, please read this Kitelife Article.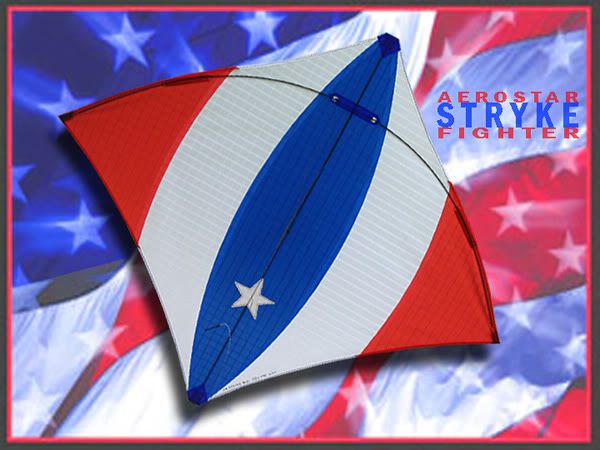 In recent years, the Stryke has been my only SLK offering and I still get tons of requests for them. But quite frankly, I over-engineered this fighter! Beautiful piece of work, but a real SOB to construct. The total parts count per kite is roughly 30 pieces (including 10 tiny sail reinforcements that are all sewn in place). The MicroTune
™
tensioning system is also time consuming to rig up. Consequently, I only make Strykes on rare occasions.

This is the first prototype (P1.0) for the Sano SS. Note the myriad of vertical lines on the sail. These were added so I could better visualize the sail geometry in flight. This definitely helped when optimizing the ShapeShifter
™
standoff system. There are also a variety of standoff holes and a quick change bridle for testing. Since each pair of standoffs are synchronized, it took a lot of time to dial in the relative positions, lengths and spacing. As I recall, P1.0 was about 80% performance wise. Trying to extract that last 20% is always the toughest and several more months of development would follow. (Photo: Chilese)
This nested file was used when making the Sano templates on a computerized cutter. I've always utilized CAD software when designing kites. Great way to make compound radius curves, calculate sail areas and add seam allowances. When designing the Sano, I took all my previous designs and layered them into a single file. Once superimposed, I could easily visualize the variations from model to model. Furthermore, knowing how each kite flew, I was able to make sound design decisions on which direction to take the Sano.
This is the water jet cutter used to make the templates. Amazing machine that operates at a whopping 60,000 psi with a Mach 3 nozzle velocity. With nothing more than water and some fine abrasive, can slice through 8 inch thick steel!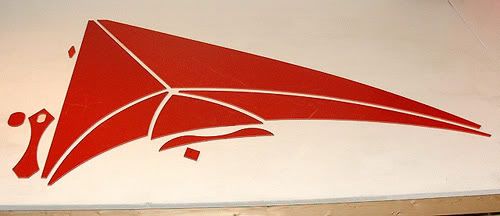 And here are the finished Sano templates. Having these not only reduces fabrication times, but enables me to make a very accurate and consistent product. Due to the expenses involved, only worth doing if you are making a good number of kites (>100 per model). For the casual builder, homemade templates would be more practical.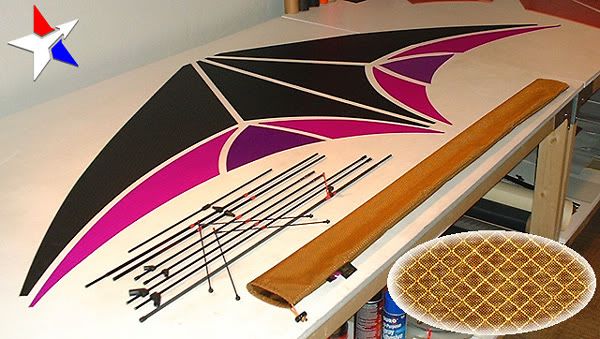 This is a Sano during fabrication. The airframe and carrying case have already been finished. In addition, all 10 sail panels have been hot cut and now awaiting bonding.
Here is one of the early Sano SSL models (the UL version). Without a doubt, the Sano is my favorite kite to fly. Capable of both "old school" and more modern technical tricks. Also, the ShapeShifter
™
tuning options really add to overall versatility of this kite.
I always try to incorporate a star into each of my kites. Typically it's a subtle star shaped rub patch or, in this case, a bold '2K5 Star' layered appliqué.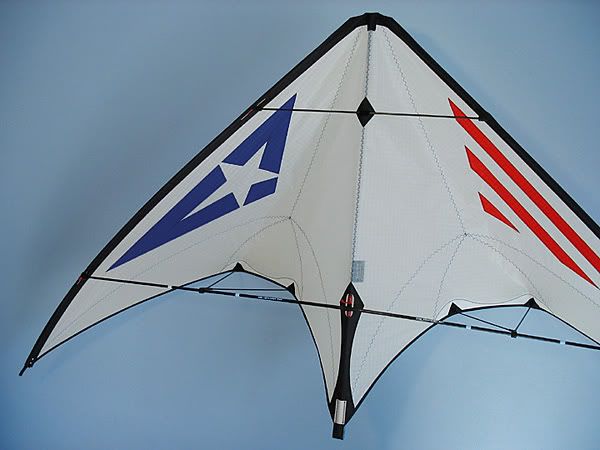 This is the Mother of all AeroStars - a Sano SSZ featuring the new "Stars & Stripes" graphics. This elaborate layout takes me double the time to make the sail; a lot of extra sewing and relief cutting! As for the Sano SSZ, there are currently less than ten of these SULs in the world.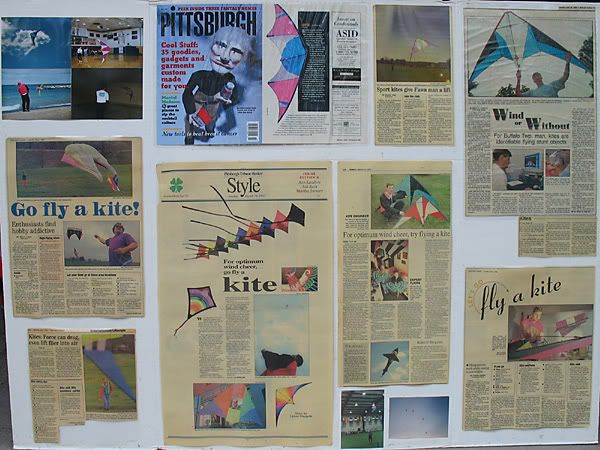 I have always strived to promote kiting in my local area. Over the years, I have done numerous demos and hosted kite building workshops for kids. AeroStar kites have been displayed at local museums, libraries and malls. In addition, I've had the good fortune to be featured in several newspaper and magazine articles. Shown above is a sampling of these stories.
The Decision to Scale Back the Business.
The website was quite successful and always generated a lot of traffic. I was never without a backlog of orders either. It was super exciting to ship kites not only around the U.S., but to many foreign countries as well (around 30 so far!). However, I just got discouraged and was no longer having fun. I could accept this if I was making boat loads of cash, but that was far from the reality!
I woke up one morning in 2005 and literally said out loud, "I'm finished with these effin' kites." Then, I immediately posted the announcement on the website and gave a one month grace period to order custom AeroStars. (To read more about my decision,
CLICK HERE
).
To be honest, I never thought I would still be making kites at this present time. But, it's the great people and encouragement that keeps me going. And, at the risk of sounding arrogant, I have a natural talent for kite making. The difference now is I only build when the mood strikes. Making very few kites these days (at most a couple each month) and I design all the color schemes. In other words, no stress of several month backlogs and more time to fly. Kiting is fun again...yep, just like the early days!
Future Plans:
At this point, I'm not sure if I'll design another kite or not. Personally, I would like to try making a vented Sano. This high wind 'SSV' version would complete the family since I already have the SSZ, SSL, SSL+ and SS. Many people have also requested an 8 foot version of the Sano (would be named the Axxiom SS). While not likely, we'll see what the future holds!
Closing Comments
:
I'm very proud of the way I ran and continue to operate the business. While AeroStars are great values, they are certainly not inexpensive. Therefore, I always try to exceed the customer's expectations when accepting their hard earned cash. And naturally, I constantly push to offer the most refined, detailed and quality product that I am capable of producing.
I can also say that 100% of
every
AeroStar has been fabricated by me. From cutting the spars to making the cases, nobody else laid a hand on them during construction. And yes, the thought of having kites mass-produced has been tempting. But in the end, I'm glad I chose not to go that route and pleased to sign my name on each AeroStar!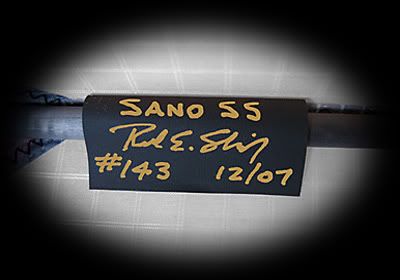 The signed tag for the January '08 Sano SS Raffle Kite.*******Best of luck to all the ticket holders!*******
THANKS FOR READING AND SMOOTH BREEZES FOR 2008!!!
[email protected]
P.S.
Almost forgot, here is one last picture for my female fans...sweet dreams ladies!